Say hello to all of your favorite summer scents - simplified! Diffuse it, roll it, spray it - no matter how you use these combinations you're gonna love them!
You can use these same recipes as a diffuser blend, a 10mL roller blend or a 2oz spray. For the diffuser blends, follow recipes as written below. For a spray, use the same oils but have a total of 20-25 drops in a 2oz bottle. First add the essential oils, then add splash of witch hazel and fill with water. If you want a larger spray bottle, simply double the amounts. For roller blends, have the total drops of oils around 30-40. First add essential oils to the bottle, then add carrier of choice.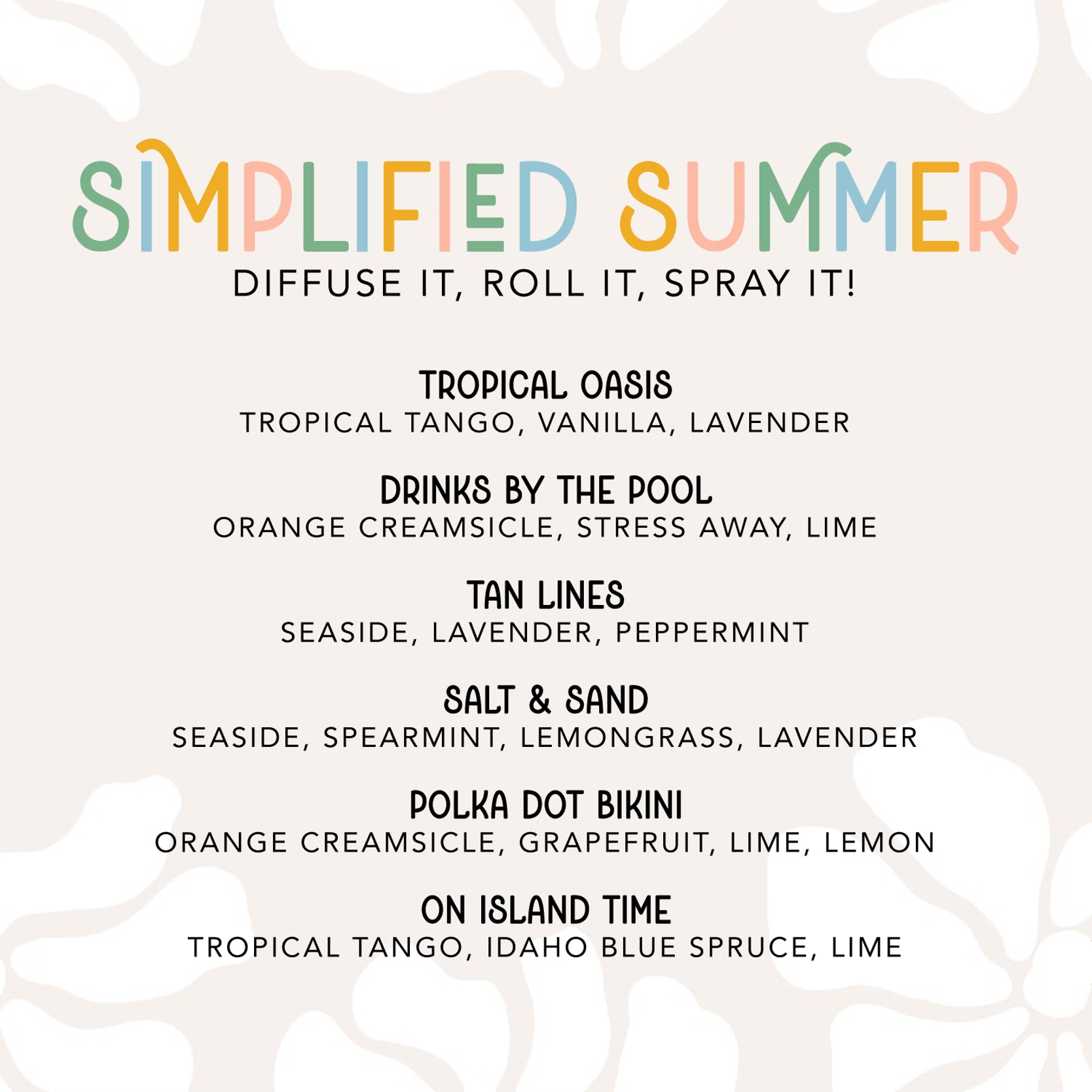 SIMPLIFIED SUMMER RECIPES
Tropical Oasis 5 drops Tropical Tango + 3 drops Vanilla + 3 drops Lavender
Drinks by the Pool 5 drops Orange Creamsicle + 4 drops Stress Away + 2 drops Lime
Tan Lines 6 drops Seaside + 3 drops Lavender + 2 drops Peppermint
Salt & Sand 4 drops Seaside + 3 drops Spearmint + 3 drops Lemongrass + 2 drops Lavender
Polka Dot Bikini 4 drops Orange Creamsicle + 3 drops Grapefruit + 3 drops Lime + 2 drops Lemon
On Island Time 5 drops Tropical Tango + 3 drops Idaho Blue Spruce + 2 drops Lime
These recipes all feature the three oils in the Simplified Summer collection:
Tropical Tango essential oil blend: coconut, orange and ylang ylang

Has a sweet, uplifting aroma
Creates a bright, blissful, and enlivening environment
Transforms your space into a tropical oasis

Orange Creamsicle essential oil blend: orange, bergamot and vanilla

Has a creamy, citrusy scent
Creates an invigorating, cheerful environment
Transforms your space into a poolside paradise

Seaside essential oil blend: citrus, cypress and sage

Has a cool, breezy aroma
Creates a fresh, soothing environment
Transforms your space into a beachside sanctuary
These sugar scrub cubes are convenient, easy and fun to make, and a lovely gift! Plus, the ingredients are healthy and good for your skin - especially if the summer heat or winter cold has your skin feeling dry. Try the oils listed below or substitute any combinations of your own to make these unique and customized.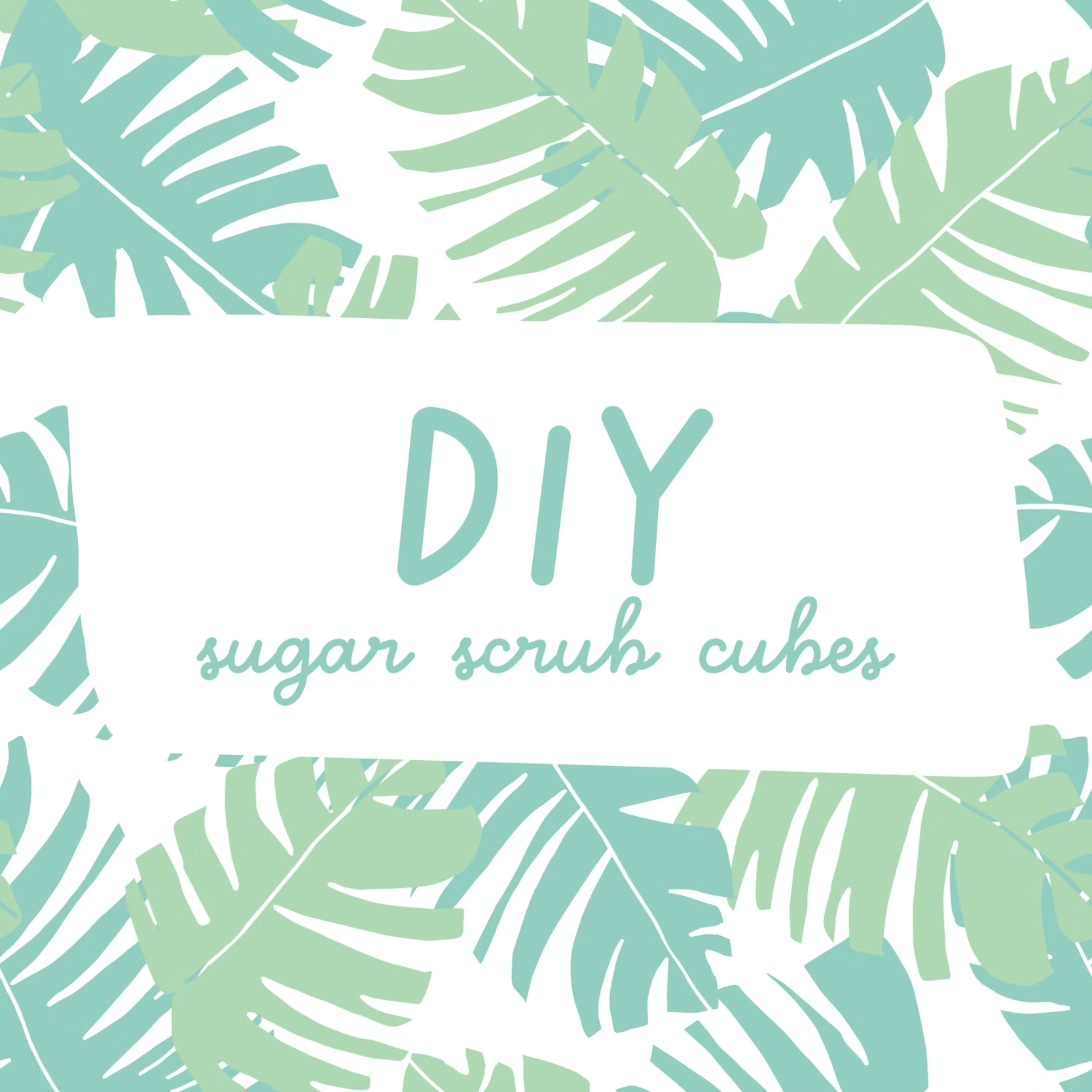 Medium bowl
Silicone mold or ice cube tray
1 cup sugar
4 ounces melt-and-pour soap
1/4 cup coconut oil melted
Essential oils, dried herbs, or coffee grounds as desired (see below)
How-to:
Place the coconut oil and melt-and-pour soap in separate bowls. Heat in a double boiler or microwave on high in 20-second intervals, stirring in between each, until completely melted.
Pour sugar into a medium sized bowl. Add the melted coconut oil and soap.
Add in essential oils, dried herbs or coffee grounds of your choosing and stir to combine.
Quickly pour the mixture into a mold and let it solidify. Putting it in the freezer for 20 minutes will help!
Remove from the molds and place in a glass jar.
To use, simply take a cube into the shower with you and break up with your hands slightly. Wet the mixture ever so slightly, then scrub away!
Here are some of our favorite scent combinations: