It's no secret that we are crazy about NingXia Red. Use this incredible supplement for 30 consecutive days and you'll see why! Honestly, we're better people when we drink it. Sound a little far-fetched? Think about it. Do cars run better when fueled by the right gas? Yep. Yet we often expect our bodies to run on second-rate, processed, non-fuel. We get worn out, our digestive systems get tired, our cells get dirty, and we need something we can assimilate quickly and easily to go to work. NingXia gives our bodies the boost that we need!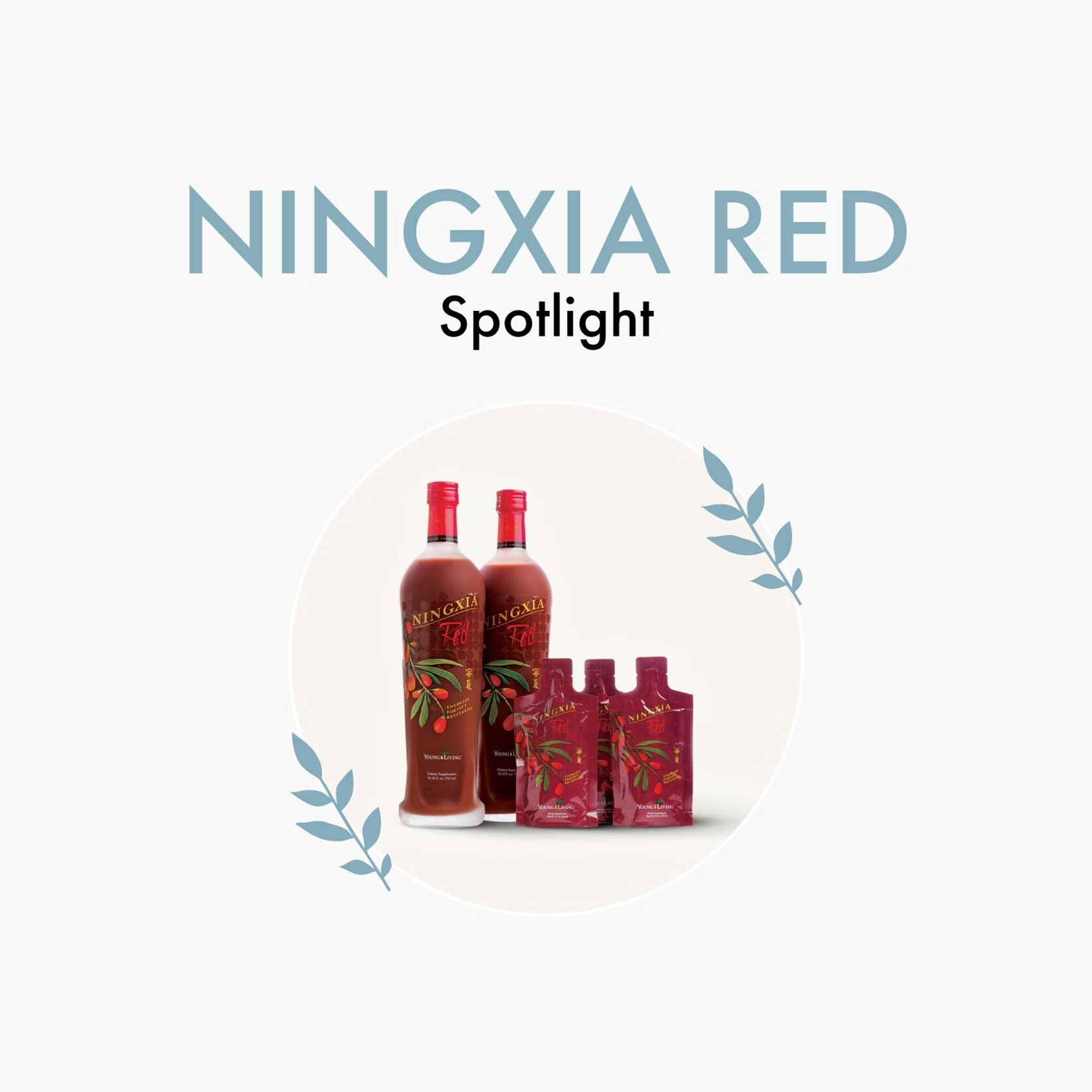 JUST A DROP OF NINGXIA…
Supports a healthy immune system
Helps us be proactive against all the germs coming our way
Provides energy support
HUGE source of antioxidants
Support brain and joint health
Supports healthy hormone levels
Supports healthy blood sugar levels
Can help curb sugar cravings
Whole-food, nutrient dense supplement full of vitamins, minerals, amino acids and polyphenols
WHAT IS NINGXIA RED? Ok so we know all the amazing benefits of this superfood, but what exactly is it?
Ningxia Red is a powerful antioxidant supplement drink made from wolfberry puree, blueberry, plum, cherry, aronia, and pomegranate juices, grape seed extract, Yuzu, Tangerine, Lemon and Orange essential oils, stevia and pure vanilla extract for flavor. The essential oils mixed in Ningxia Red and other Young Living supplements act as catalysts to help deliver nutrients through the cell membranes while assisting in the removal of cellular wastes.
Besides its great taste, NingXia Red has some amazing health benefits! It is the highest known protection against the dangerous superoxide free radicals, as documented in the S-ORAC test conducted by Brunswick Laboratories.
One ounce of Ningxia Red has the antioxidant power of:
4 Pounds Carrots
2 Quarts Carrot Juice
8 Oranges
1 Pint Orange Juice
2 Pounds Beets
2 Cups Beet Juice
3 Cups Raspberries
2 Cups Blueberries
… combined!
Let's talk antioxidants. That word gets thrown around a lot as we discuss wellness, but what does it really mean? Antioxidants are substances or nutrients in our foods which can prevent or slow the oxidative damage to our body. When our body cells use oxygen, they naturally produce free radicals (by-products) which can cause damage. Antioxidants act as "free radical scavengers" and hence prevent and repair damage done by these free radicals.
NingXia Red is rich in ellagic acid, polyphenols, flavonoids, vitamins, and minerals. In addition, it has 18 amino acids, 21 trace minerals, beta-carotene, and vitamins B1, B2, B6, and E. It is an excellent whole-food source of nutrients that gives energy and strength to the body without harmful stimulates. It also has an amazing low glycemic index of 11 that does not spike blood sugar levels.
PRODUCT & EMOTIONS Supporting our physical health is critical when it comes to emotional health - the two are so interconnected! Both NingXia Red and NingXia Wolfberries are full of antioxidants which are essential when we are processing stress or trauma, and they are particularly helpful when feeling Overwhelm, Grief or Fear.
Relieving the physical oxidative stress on the body facilitates emotional healing. Further, both are soothing and can bring a sense of security in the morning when it's hard to get up and face the day. Antioxidants really help promote the movement of grief through the body! To use the NingXia Wolfberries, simply place them in a mug with some of your favorite herbal tea, add hot water and steep.
PRODUCT OPTIONS
NingXia Red bottles, 750mL

Available in 2 pack, 4 pack, 6 pack or 8 pack

NingXia Red 2oz Singles

All the goodness of NingXia in a convenient pouch!
Available in 30, 60 or 90 count packets

NingXia Red Combo Pack

The NingXia Red combo pack is the best of both worlds: two full-sized 750 mL bottles and a 30-pack of 2-ounce singles

NingXia Zyng

Ditch your energy drinks and grab some Zyng! NingXia Zyng is a refreshing, lightly carbonated drink that combines Ningxia wolfberry puree, pear and blackberry juices, and essential oils with naturally occurring caffeine for an energizing boost.

NingXia Nitro

Say goodbye to brain fog with Nitro. NingXia Nitro is a delicious, energizing wolfberry drink infused with essential oils, botanical extracts, D-ribose, Korean ginseng, and green tea extract to support alertness and cognitive and physical fitness.

Ningxia Bundle

The Premium Starter Bundle with NingXia includes nutrient-rich, powerful products to help support overall health and wellness at a great value.
Includes two 750mL NingXia Red bottles, one 30 pack NingXia Red singles and a box of NingXia Nitro.

Organic Dried Wolfberries

Young Living's Ningxia Organic Dried Wolfberries are a sweet, organic snack from nature that's easy to make a part of your daily diet. Analysis by biochemists at the Ningxia Institute of Nutrition showed the wolfberry to be one of the most nutrient-dense foods on the planet. Snack on these dried berries on their own, add to granola or yogurt or use them to make tea!
DAILY HABITS WITH NINGXIA RED Who should use NingXia Red? Everyone! We love 2 ounces daily for kids and 2-4 ounces daily for adults.
Drink your NingXia Red on its own everyday as part of your wellness routine.

Simple tip for kids: Open a NingXia Red packet and place a stainless steel straw directly in the packet for convenience for the little ones!

Add NingXia Red to a smoothie or workout shake.
Add Vitality Oils of choice to your daily NingXia Red

Lemon, Tangerine, Lime and Grapefruit are great overall
Longevity, Thieves for immune and overall wellness
Endoflex, Nutmeg for stress support

Make a NingXia Red Immune Booster:

Fill a glass with the following:
1/3 full with organic apple juice (add water if you want to dilute it)
2oz Ningxia Red
1 tsp organic elderberry syrup (make your own and infuse it with oils!)
Optional: 1 drop Thieves Vitality essential oil blend

Make a NingXia Red Spritzer any time of day:

1 can sparkling water in your favorite flavor
1/3-1/2 bottle of kombucha
2-4oz Ningxia Red
Optional: 1-2 drops citrus Vitality oils
Add all to a glass, stir well and enjoy!

Freeze NingXia Red packets, then pack in your (or your kids) lunchbox. Doubles as an ice pack and it's a fun + healthy lunchtime treat!
Make NingXia Red Chia Pudding. Combine:

4 oz NingXia Red
2 Tbsp chia seeds
1 Tbsp honey, maple syrup or other natural sweetener if you so desire
Mix all together in a bowl & place in the refrigerator for 4 hours or overnight. Stir often for the first hour to ensure it gels evenly.
ENJOY your heavily-antioxidant-infused PUDDING any time of day!

Start your day with a NingXia Smoothie Bowl:

A fun breakfast treat, or set up ingredients for your guests to make their own smoothie bowl at your next gathering.
Blend your favorite smoothie with fruits and veggies in a blender or simply stir 1-2 oz of NingXia Red into your favorite yogurt and top as desired.
Toppings to consider: Einkorn granola, chia seeds, flax seeds, hemp seeds, oats, nut butters, bananas, peaches, pineapple, berries, apples, kiwi, coconut flakes, nuts, cinnamon, honey, agave nectar, dried plantain or banana chips, Young Living Pure Protein Complete

Make a NingXia Red Sports Drink! Great for when you're out in the sun, for a long hike, after a ball game, or when the dreaded stomach bug hits the house!

1 cup water or coconut water
2-4 oz Ningxia Red
1 lemon juiced
1 lime juiced
1-2 Tbsp maple syrup
1/8 tsp pink Himalayan sea salt
1-2 drops Young Living Vitality oil of choice: Tangerine, Orange, Lime, Citrus Fresh, or Grapefruit
Mix all ingredients in a blender until smooth.
If you want to kick it up a notch, here are some BONUS ingredients you can add to the recipe above that make this drink dreamy:

1/2 tsp apple cider vinegar
1/2 tsp coconut oil
1/2 tsp vanilla extract
1 drop Young Living Peppermint Vitality Oil

Mix all ingredients in a blender with some ice for one of the most refreshing drinks EVER. You could even do this sans blender - just throw everything in a shaker cup, and shake well!
COMPANION PRODUCTS
Life 9 Probiotic
Super B Tablets
Super Vitamin D
OmegaGize Capsules
Longevity Vitality Essential Oil Blend
NINGXIA RED FAQ: Q: When can children begin drinking NingXia Red? This is the decision of you as the informed parent or caregiver. I choose to give it to my children at the point that I am giving them other plant-based foods. It is usually best to begin with 1 oz. and then work up to the adult recommendation of 2 oz. My children 2+ all drink 2+ ounces per day.
Q: Can I use NingXia Red if I have diabetes? A: You must answer that question based on your body's response to the product. Drink NingXia, wait 15 minutes, and then check your blood sugar. Add healthy fats and proteins whenever taking in sugars, even those naturally occurring in fruits. It does fall well within recommended guidelines for carb and sugar intake for those with diabetes.
Q: Can I use NingXia Red if I need to avoid nightshades? A: There is evidence to suggest that some nightshades can exaggerate inflammation in the body and should be avoided by those with autoimmune diseases. The NingXia wolfberry contains a balance between the polysaccharides and solanine that suggest that balance may be in place with this particular fruit.
Q: Can I use NingXia Red if I'm on blood thinning medications? A: Make sure that you research your specific medications and know your body. There have been people who have reported a thinning of blood with regular usage of the wolfberry. If on medications, be very sure that you consistently use your NingXia daily and at the same amount. This way, your doctor can help you adjust your dosage to work well with your NingXia intake.