Summer Stock Up!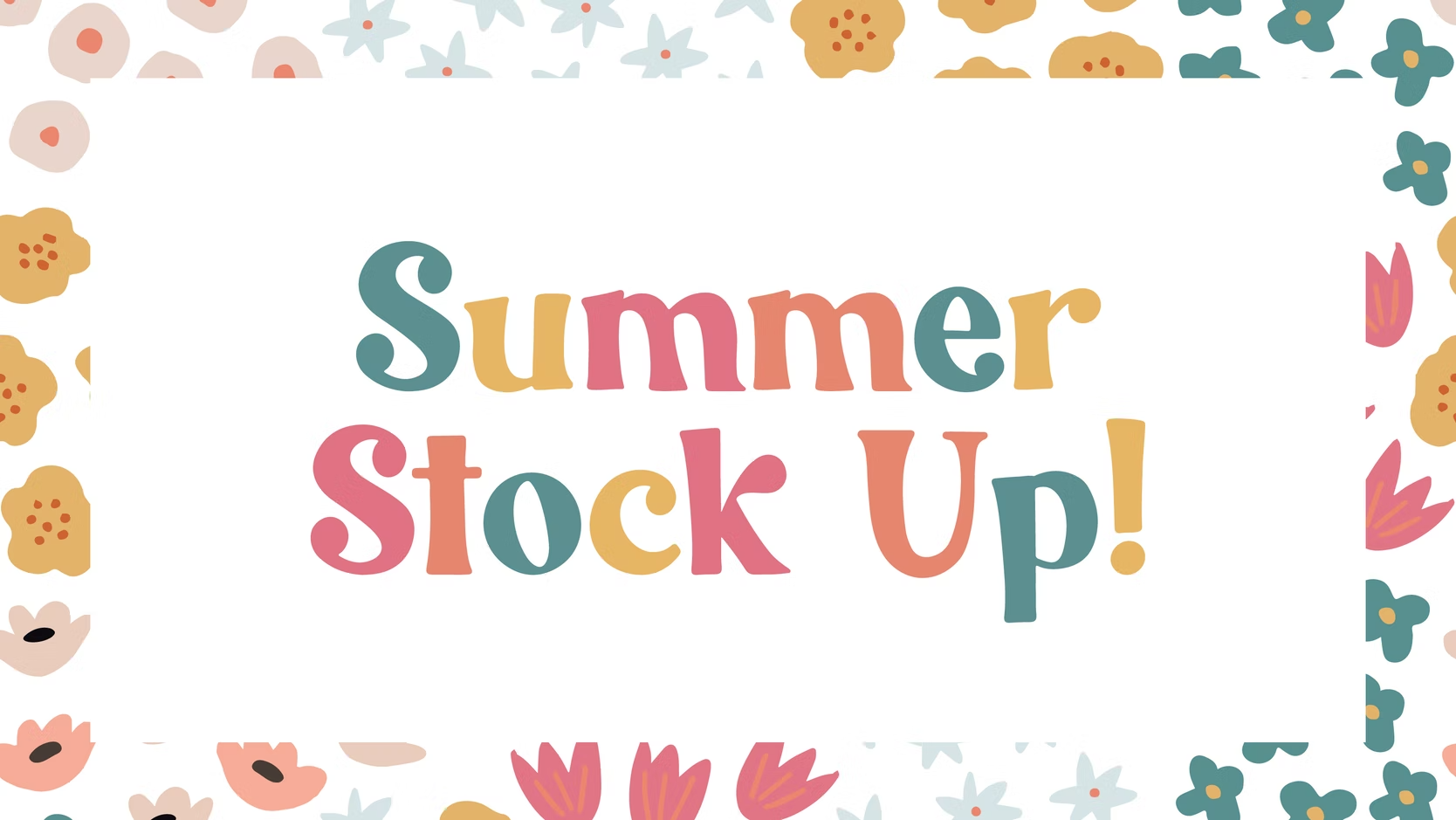 Summer is just around the corner, and we are ready for long days full of warmth and sunshine and slower schedules! We're stocking up on these seasonal favorites to make the most of this coming season and to be prepared for the inevitable bumps in the road: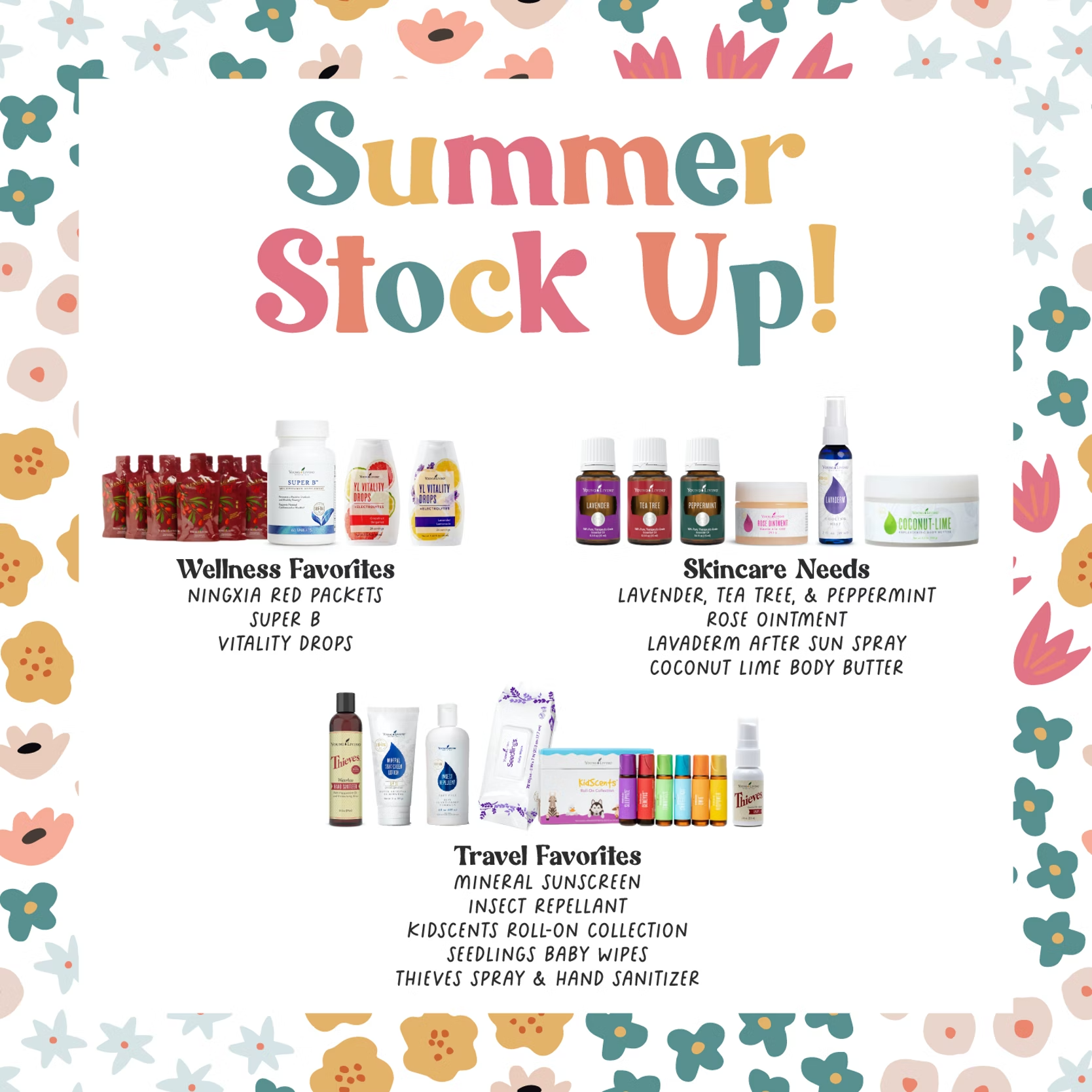 TRAVEL FAVORITES
Whether you're going by plane, train, or automobile or having a staycation, here are the travel necessities we're stocking up on now (before they sell out!).
Insect Repellant

Enjoy the outdoors without the pesky pests. This insect repellant is a crowd favorite because it works, it's safe for the whole family (no deet here!), and it's super convenient. It comes as a liquid and as wipes!

Mineral Sunscreen

Protect tender skin with the power of plants with YL's Mineral Sunscreen. Safe and effective for you and safe for reefs as well. A little goes a long way with this water-resistant formula, so it's definitely a staple in our households!

KidScents Roll-On Collection

These prediluted roller blends are perfect for stashing in your suitcase, purse, backpack or first aid kit! Owie is great for owies, TummyGize is everyone's tummy BFF, SniffleEase is great for sniffles, and SleepyIze is perfect for winding down at the end of the day.

Seedlings Baby Wipes

Trust us when we say these wipes are life savers! Use to quickly clean hands, soothe skin post-sun, even remove sand from the skin! You can also use them as makeup remover wipes and for their obvious, original intent. Soft and soothing on the skin but effective!

Thieves Spray & Hand Sanitizer

Thieves Spray is our go-to for cleaning all.the.things on the go - hands, high chairs, steering wheels, e-readers, even fruit in a pinch! We also keep a large bottle of Thieves Hand Sanitizer in each vehicle for easy use. Goodbye germs!
WELLNESS FAVORITES The lazy days of summer have us relaxing more for sure, but one thing we're not relaxing on is our true self care and wellness routines! Even on vacation, we make sure to take our daily supplements and oils with us. Here is what we always pack:
NingXia Red Packets

Ningxia Red is a powerful antioxidant supplement that has some amazing health benefits! Basically it is an antioxidant POWERHOUSE. This daily drink has so many health benefits it's hard to list them in one place! Freeze the packets for a slushy-like afternoon treat, add them to smoothies or even make your own healthy popsicles!

Super B

Super B is one supplement we never want to be without. This B complex is an everyday must have all year round to help support healthy energy levels and decrease stress!

Lavender Lemonade or Grapefruit Bergamot Vitality Drops

It is so easy for us to get dehydrated in the summertime. Sunshine, heat and chlorine can quickly deplete our systems, and one way we love to combat that with electrolyte drops! Whether you choose Lavender Lemonade or Grapefruit Bergamot, these little drops are a tasty way to make sure you and yours stay hydrated this season.
SKINCARE NEEDS
Summer means more time outside, which can leave everyone's skin needing a little extra TLC. Here are a few favorites we keep on hand to help!
Tea Tree, Lavender & Peppermint Essential Oils

These three oils are wonderful for soothing skin after seeing a bit too much sun! Whip up a quick 'After Sun' balm, spray or roller with this trio and/or add it to Epsom salts to help reduce the sting of tender skin. For a balm, add 25-30 drops each Lavender & Tea Tree + 20 drops Peppermint to ½ a jar of Rose Ointment and apply as desired. Bonus points for adding in some Frankincense, Helichrysum or Elemi as well!

Rose Ointment

Our go-to balm for any and every skin need! From wind or sun-chapped lips and cheeks to soothing owies to using as an ultra-hydrating moisturizer, this rose infused balm is a must have for every season.

Lavaderm After Sun Spray

The name of this product says it all! Lavaderm is SO soothing to tender skin of any kind - from sunburns, bug bites, rug or trampoline burns, really anything that needs soothing. This spray combines Lavender and Peppermint with carrier oils that spray directly onto the skin - no rubbing required!

Coconut Lime Body Butter

Grab this summery body butter to keep skin soft, smooth and hydrated all season long. It's great for everyday use and extra lovely after some time in the sunshine! Not a fan of coconut and lime? Try the Lushious Lemon Hand & Body Lotion!