Hello SUMMER!! Warm weather, sunshine-filled days and vacations (or staycations!) are on the agenda, and we are ready for it all -- with our favorite oils and Young Living products in tow! The lazy days of summer won't find us relaxing on our health, so here are some of our best tips, tricks, recipes and DIYS for enjoying the summer months to the fullest.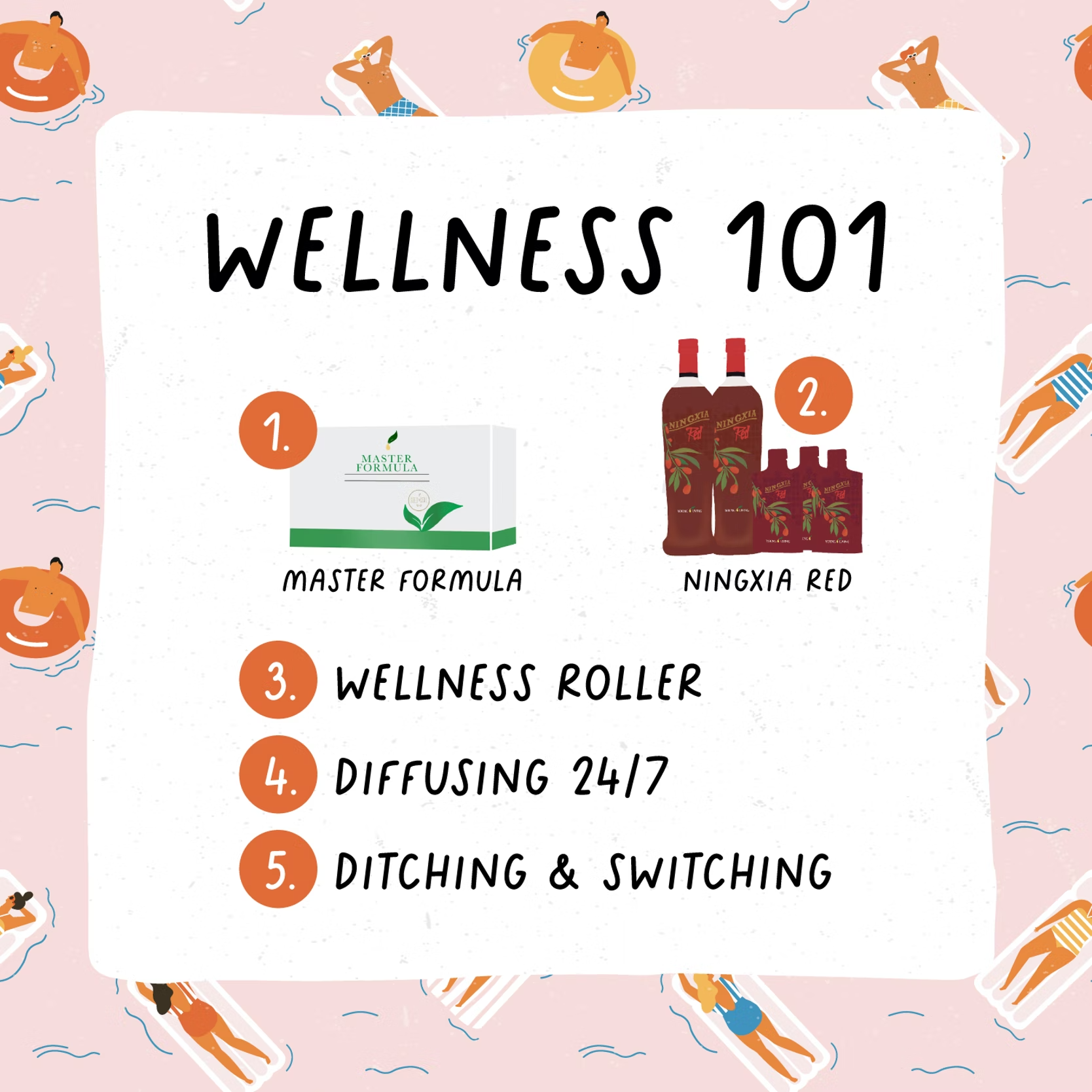 WELLNESS 101
School may be out for the summer, but we aren't getting lax on our wellness routines! Summer is a great time to really focus on great daily wellness habits that we can continue when the colder months arrive! Here are five simple things we're doing everyday this summer to focus on true self-care and overall health.
Master Formula Our favorite daily multivitamin that packs a HUGE nutritional punch and helps us work towards daily wellness. The prepackaged capsules make traveling with this supplement so easy, too! Check out the Master Formula Spotlight linked below for more on this daily favorite!
Daily Red (NingXia Red that is!) If there were only one habit that you could start or continue during the summer, a daily dose of NingXia Red would be it! This delicious supplement is a powerhouse of antioxidants and nutrients that we want for everyone in the family. Check out the NingXia Red Spotlight linked below for more on this incredible supplement!
Wellness roller This blend is something we use year round to help keep our immune systems on go! We roll this blend over the lymph nodes, on the feet or along the spine morning and evening year round, then use it more frequently as needed! To a 10mL roller bottle add:
25 drops each Thieves, Pine, Lemon
20 drops each Geranium, Frankincense
Fill with carrier of choice
Note: If you plan to be in direct sunlight, apply this somewhere your clothing will cover!
Diffusing 24/7 If we are awake, our diffuser is on! Diffusing is such an incredible health habit. Not only will your home or office (or car!!) smell amazing, you get the health benefits of breathing in the oils. And in fact, our diffusers are running when we sleep too!
Start the morning off with Raven + Lemon to get everyone going and support the airways.
Set the stage for peaceful midday rest with Lavender, Grapefruit + Vanilla.
Bring the 'afternoon pick-me-up' vibes of a cup of coffee with Peppermint + Tangerine + Stress Away.
End your day with Thieves + Cedarwood to boost immunity and promote restful sleep.
Ditching & Switching One of the biggest impacts you can have on your health is by ditching conventional products that are FULL of toxins and fragrance. Sadly these ingredients are often hidden or disguised by clever marketing (greenwashing anyone??) or renamed as things that sound more natural. Here are a few simple swaps to make this summer:
Conventional household cleaner → Thieves Household Cleaner
Antibacterial hand soaps → Lushious Lemon Foaming Hand Soap
Beauty store face serums → BLOOM Brightening Cream or CBD Beauty Boost
Kids toothpaste, shampoo, bath gel → KidScents Toothpaste, Shampoo, Bath Gel