When it comes to the health of our families, we want the best for everyone, including our children. Sadly, the conventional options for supplements, personal care and children's health are severely lacking (and often cause more harm than good). One thing we love about the YL products is that we can use natural, effective options for both ourselves and our kiddos!Whether or not you have little feet running through your house, you'll love these favorites for the young and the young at heart!
Lavender Hand & Body Lotion: For soft, healthy skin.
GeneYus Roll-on: For focus & clarity.
Super C Chewable Tablets: A plant-based superfood!
MightyZymes: For happy digestion.
TummyGize Roll-on: For happy bellies.
SniffleEase Roll-on: For easing sniffles.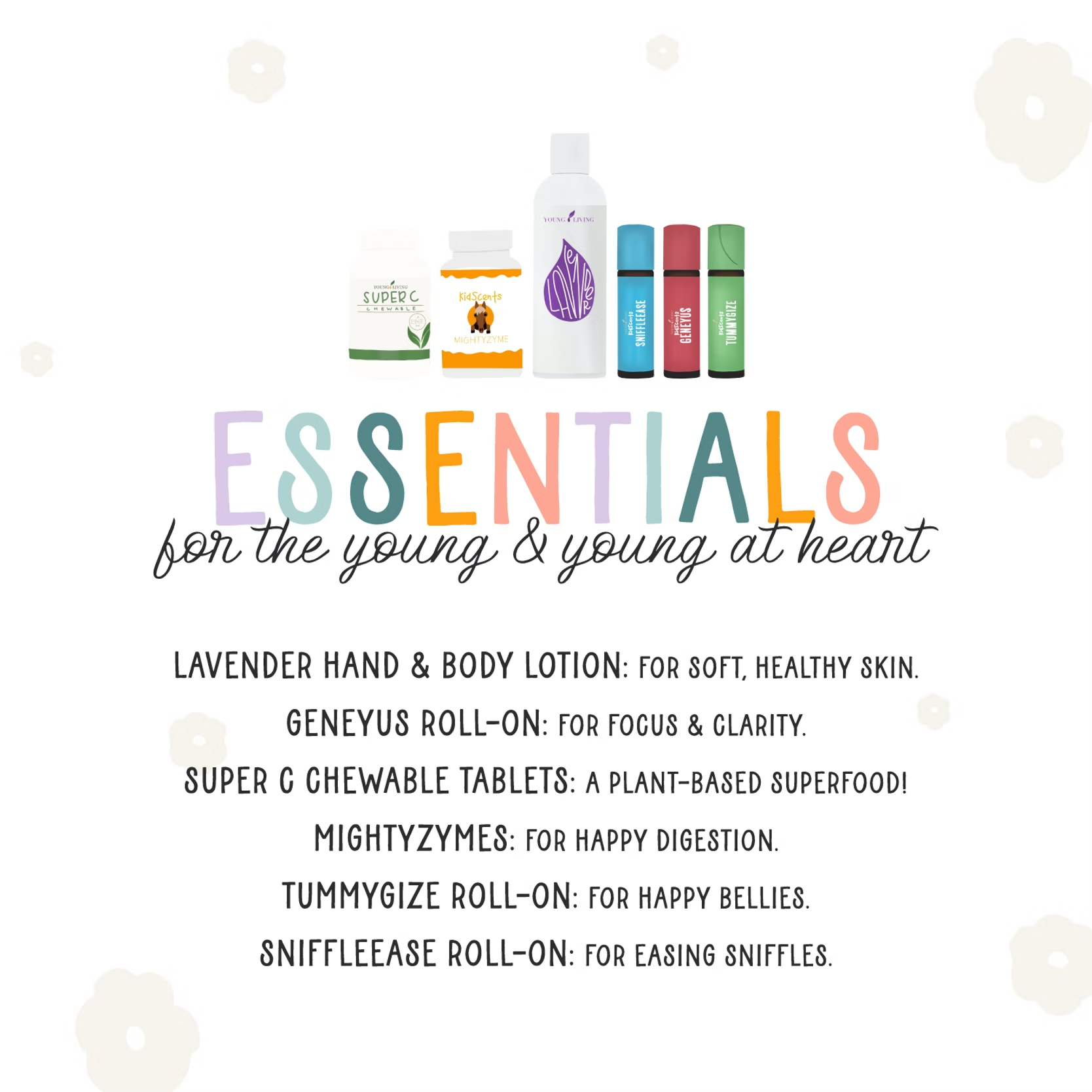 Add these favorites to your Loyalty Rewards order for even more perks! I mean, is there anything better than your favorite, healthy products showing up on your doorstep each month? What about getting free products and product credits just for ordering things you're already using? Sounds like a winning situation to us! Which is why we love ordering using the Loyalty Rewards. We ditch conventional, toxic products for safe, clean Young Living versions, save money, save time, create a natural home, and get freebies all at the same time!
To set up a Loyalty order, search for the products on the 'Essentials' list, then click 'Add to Loyalty Order.' You can manage your subscriptions by going to 'My Account' and 'Loyalty Order'. You can edit your order each month to reflect what you need (hello easy button!), change the order date and shipping options. Just make sure to order 50PV minimum each month in order to maintain and increase your percentage back in points! Every time you hit a qualifying PV threshold (100PV, 190PV, 250PV and 300PV), you will automatically add free oils or products to your order!
Lavender Hand & Body Lotion
Made with plant-based ingredients—and no parabens, petrochemicals, synthetic colors, synthetic fragrances, or animal-derived ingredients—this calming, herbaceous body lotion is a favorite for everyone in the family! Use daily after bathing, for tender skin that has seen too much sun or wind, or use for a gentle bedtime massage.
GeneYus Roll-on
We might just call this one focus in a bottle. With grounding Frankincense and calming Cedarwood, alongside other botanicals, KidScents GeneYus is excellent to use when children need to re-center during homework time. But this pre-diluted roller isn't just for kids! GeneYus is a favorite of many adults for its aroma tat helps to create productive, positive atmospheres.
Super C Chewable Tablets
Super C Chewable Tablets prove 150mg of plant based Vitamin C in one serving (one tablet). The Vitamin C in these tablets is from Acerola cherry powder, Camu camu fruit powder, and Rosehip fruit powder. Super C Chewable tablets also contain organic stevia, citrus bioflavonoids, and Orange essential oil. Talk about an antioxidant and nutrition powerhouse! Super C Chewable tablets are one of our daily favorites.
MightyZymes
Enzymes are crucial to our health and digestion, and in an ideal world our foods would be rich in natural enzymes. Unfortunately the average diet and even the soil quality of our produce lead us to be sorely depleted in enzymes at an early age. Without these little workers, we are not assimilating the nutrients that we need, and we all know that growing bodies need those nutrients! These chewable enzyme talbots area great choice for kids and adults alike.
TummyGize Roll-on
This pre-diluted blend of Ginger, Tangerine, Fennel, and other belly-loving essential oils is naturally soothing for tiny tummies. But it isn't just for kids! We love this convenient roll-on for adults as well. This is one roller we are never without and one that will make a believer out of anyone skeptical!
SniffleEase Roll-on
Ease sniffles for tiny noses and adult noses alike with this fresh, crisp eucalyptus blend that is pre-diluted for easy application! This Young Living exclusive is formulated for children ages two and up and can be applied directly to the chest or throat. A gentle blend of Eucalyptus, Palo Santo, R.C, and other respiratory support oils, SniffleEase is another roller we keep in our arsenal at all times.